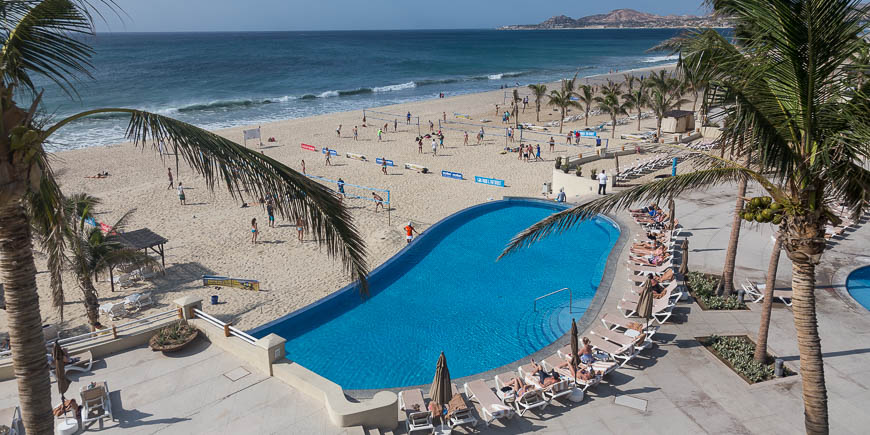 2024 Cabo San Lucas Pricing


March 2-9, 2024
First Come, First Served with priority for 2022/23 Hacienda Guests
Link on Registration page goes live at noon MST, Tuesday, Sept 12, 2023
All inclusive plus airport transfers (airfare not included)
BARCELO HOTEL IN SAN JOSE DEL CABO, MEXICO
Since 2014,  we have been "hitting" the beaches of Cabo San Lucas every spring for a week of fun in the sun.  For 2024, we are back at the all inclusive Barcelo Gran Faro in San Jose Del Cabo.  The beach can accommodate 8 nets so this will be an intimate week, capped at 64 guests (32 men and 32 women plus family and friends). The Barcelo is an all-inclusive premier hotel. Your SOB Cabo package includes: hotel, all food and beverage, airport transfers ($80), tournaments (Coed 4's, KOB/QOB, Coed 2's & 3's), pick-up play, clinics with our pros, private pro games, pro demos, drills, a custom SOB Molten Beach volleyball, SOB gift and more. Guests will need to cover their own airfare.  The property has 5 restaurants ranging from comfort food poolside during the day, to classier restaurant options in the evening evening.  Around the property you will find 2 pools including an infinity pool overlooking center court, a massive hot tub, a health club/spa and most importantly, SOB Volleyball courts on the beach!
Volleyball Package Pricing*
| | |
| --- | --- |
| Single Occupancy | $3,339 per person |
| Double Occupancy | $2,290 per person |
| Triple Occupancy | $2,211 Per Person |
| Quad Occupancy | Families Only (Call Us) |
| Additional Night(s) | $252 for single, $200pp for double (bring you own roomates) |
| ** Kids/Youth: 0-4 | Free  |
| ** Kids/Youth: 4-12 | See Non-VB Below |
| ** Youth 13+ | Same as adults |
NON-Volleyball Package Pricing*
| | |
| --- | --- |
| Single Occupancy | $2,939 per person |
| Double Occupancy | $1,790 per person |
| Triple Occupancy | Call Us, minimal savings and not worth it |
| Quad Occupancy | Families Only (Call Us) |
| Additional Night(s) | See additional nights above |
| ** Kids/Youth: 0-4 | Free |
| ** Kids/Youth: 4-12 | $700 (in same room as parents) |
| ** Youth 13-18 | $1,200 (in same room with parents) |
* INTERNATIONAL GUESTS: There will be a $50 surcharge to cover additional shipping fees unless we can bring it down with us
** In parents room with either 2 parents in paid double or with 1 parent in paid single
---
Payment, Cancellation and Refund Policies
| | |
| --- | --- |
| Registration | $1,000 deposit due with registration (we will bill you with confirmation, but by 2nd Tuesday in Oct) |
| Balance | Balance due by 2nd Tuesday in November |
| 90+ days prior | $250 cancellation fee |
| 89-45 days prior to the trip date | $500 cancellation fee |
| 44-30 days prior to trip date | $1,000 cancellation fee |
| 29-0 days prior to trip date | NO REFUND |

Travel Insurance: We recommend purchasing travel insurance/protection through a 3rd party.  We strictly adhere to the Cancellation Policy above. 
Registration and Wait-List Policies: The Registration Link can be found on the Registration Page.  Volleyball Vacation Registrations typically open six (6) months prior to each trip and trips are filled first come, first served.  Our Cabo San Lucas Volleyball Vacation can accommodate 32 players per gender.  24 of these spots will be reserved for returning guests from the 2022/23 Hacienda Trips and the remaining 8 spots will be filled with new guests, creating a nice blend of players.  One week after registration opens, any unfilled spots will be filled from the first come, first served. (i.e. if you are a returning guest and did not get in, you may get a new guest spot if they are not all claimed and vice versa)  Once the trip fills, players will be placed on a waitlist for any spots that may open due to cancellations.  
Payment: Registration opens annually on the second Tuesday in September.  Players will be informed if they got in by the end of September at which time payment of the initial deposit is due.  Payment plans may be available (case by case, call us). 
Pricing:  All prices are subject to change.
Inclusions:  All-inclusive SOB Cabo San Lucas Volleyball Vacation includes: hotel, food, beverage, 3 tournaments, clinics with the pros, and an SOB Gift.  Additionally, our Cabo trip includes airport transfers and one way transportation for a trip to downtown Cabo ($100+ value).  
Airfare:  SOB Volleyball Vacations , i.e. guests must secure their own airfare. 
Transfers:  Airport Transfers are included in our Cab Trip ($80 value). 
Passports:  Passports are required for travel to Mexico.
COVID-19:  SOB may require proof of vaccination or a negative a COVID test to attend any trip.  SOB will rely on local government mandates at time of travel for all health related policies. 
Additional Nights:  Players wishing to make it a longer trip can arrange for additional nights, however, please let us know before you secure airfare so we can confirm room availability. We have guests arrive early and stay late on most trips, so there are usually games to be had. Guests often choose to mix it up and spend time before or after the trip in Downtown Cabo San Lucas or at another resort.  Life is short, indulge in travel! 
Out of Package Options:  The SOB Cabo San Lucas Volleyball Vacation is a private, curated trip for a group of volleyball enthusiasts.  If you want join our group, we encourage supporting our pros and staff by join the trip officially with one of our packages above.  SOB occasionally has guests who have access to a time share, or have some other requirement that precludes them from booking an in group package.  Please contact us directly so we can discuss our out of package options and make sure you are included in the group.  We respectfully ask that players and fans do not just show up unannounced.  
Play Volleyball Out of Package:  Volleyball Only Packages are available for Puerto Vallarta, however, they are approved on a case by case basis.  Sign up and then give us a call at (303) 745-2255 so we can understand your needs.  This option usually runs around $900.
Join the Party Out Of Package:  Guests that want to be included in the party but prefer to book outside our packages can do so for $350.  This will get you included in in the group and activities including pickup play all week, one private dinner, transportation one way for a night on the town in Cabo, and some SOB Clothing.  It will not include tournament play, clinics or airport transfers. We will donate $100 of your fee to our SOB Charities, and the other $250 will help us pay our pros, staff, etc.  Please call us directly at (303) 745-2255 to join the fun.  
Alumni Packages:  Have you attended a bunch of our trips but reach a point where you want to hang with your friends, cheer on the players and pros, but your game is long gone?  Please reach out, talk to us, and let's see what we can do to keep you joining our groups into your twilight years.  In other words, if you can still cheer, heckle, and tell volleyball stories at dinner, AARP discounts are on the table.  Call us.