March 2-9, 2024
64 Players, 4-6 Pro Athletes, 1 Amazing week!
Registration opens Tuesday, September 12, 2023 at noon, MST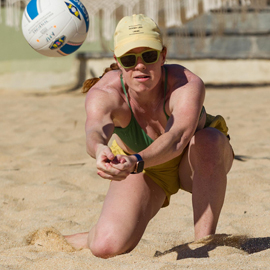 Opening Day:  SOB CABO SAN LUCAS registration occurs approximately 6 months before the trip.  Look for registration to open annually on the 2nd Tuesday in September at noon, mountain standard time. 
The Group:  SOB Cabo San Lucas is currently capped at 64 players, 32 per gender.  We have a minimum of 8 courts for competition, clinics and pick-up play.  The trip usually settles in at about 80 guests including players, friends and family, staff and pros. 
The Cabo Story:  Cabo is tough.  Most of the sand is bad, the beaches are to thin for nets and the good beaches are too windy.  We know, we walked them all and only found one that would work.  April 2014 welcomed our inaugural Volleyball Vacation in Cabo San Lucas.  130+ guests joined 6 AVP Pros on 16 nets at the beautiful  Barcelo Grand Faro in San Jose del Cabo.  We had found our Cabo nirvana.  Unfortunately, 6 months later, hurricane Odile dealt a direct hit to the property and relocated the hotel under construction next door onto our courts!   Committed to the community, we were back in 2015 cleaning the beach (28 bags of debris) and playing ball.  Unfortunately, the hurricane beat up the beach too much so the next year, we relocated to the Holiday Inn Los Cabos and a nice wide 30 court with great sand.  Unfortunately, while the courts were awesome, the property (now closed) did not meet the standards of our guests and after the 2018 trip, we decided to give up on Cabo.  But one of our contacts suggested we take a look at one last property, the Hacienda Del Mar, a 5-star hotel in a gated, private golf community.  To our surprise, the sand and beach were amazing, but it could only hold 8 courts and was not all-inclusive.  So we pivoted again and had three great trips in (2020, 2022, 2023). Again, paying for every meal did not resonate with our clan, and we prepared to bail on Cabo again.  But one of our players (thanks Rob) asked if there was any way we could return to the Barcelo.  We checked it out and to our surprise, nature had done her thing, and the beach was back to it's 2014 quality.  So for 2024 we are back to where it all started.  All-inclusive, huge hot tub, infinity pool by center court, and walking distance to downtown San Jose and their famous art walk. 
The Beach:  Hurricane Odile dealt a brutal blow to the Barcelo Beach in 2014, but a decade later, it is in great condition.  The beach is swimmable, depending on the swell and whales pass by daily.  Temperatures in March are in the low 70's with light winds depending on the time of day.  
The Hotel:  The Barcelo is a 350 room, all-inclusive premium level resort in San Jose del Cabo.  We first visited this hotel in 2014, loved it and are excited to return for 2024.   The property boasts 5 restaurants, 3 bars and 350 rooms and suites all with private balconies and ocean views.  Toss in a gym, spa, an infinity pool adjacent center court and we are good to go.  
Out and About:   Cabo trips are special: a blend of PV (5 star hotel we never leave) and Ixtapa (we are off campus nightly).  The Barcelo is walking distance from downtown San Jose del Cabo.  We usually visit early in the trip for a night of dancing, and again on Thursday for Art Walk.  We also sneak across the street from the hotel one night for a change of scenery.  And there will be one night a crew heads in to downtown Cabo to get in trouble and perhaps partake in Scorpion shots of Mescal.  The remainder of the time, we stay on property eating, drinking, hot tubbing and playing a ton of ball. 
The Photos:  We have a professional photographer, Russ Dix, on all our trips.  He boils down 5,000 photos to the best 700 shots and shares them with everyone after each trip in a private SOB Gallery.  You can check out a public gallery from any of our last 34 trips at:  SOB Trip Photos
Transportation Bonus:   Our Cabo trip includes transfers to and from the airport.  So plan on avoiding a $40 cab ride each way and enjoy VIP treatment in one of Antonio's escalades.  There will be cold water and beer waiting for you!
Returning Player Priority for 2024:  Spots will be filled first come, first served.   24 of the 32 spots per gender will be reserved for returning Guests from the 2022/2023 Hacienda Cabo Volleyball Vacation, and the other 8 spots will be reserved for new guests.  Returning guests (Hacienda 2022/2023) will receive priority until noon, on the 3rd Tuesday in September at which time, any remaining spots will be filled with new guests.  We will be visiting the site in October and if we determine the beach can handle 2 more courts, we may expand the trip to 80 guests. A deposit of $1,000 will be due within 7 days of confirmation. 
New Players:   8 of the 32 spots available per gender will be reserved for new guests.  There is no obligation until after you are confirmed, and billed, and decide to pay the $1,000 deposit.  So don't hesitate to sign up and get on the list!
The Pros:  SOB Volleyball Vacations has worked with over 70 different Professional Beach Athletes since 1994 including Olympic Medalists, AVP and FIVB Champions, and top college coaches.  You can check out a list of all our past pros in the "Our Pros" section under the Programming tab.  We want our guests to join us on an SOB Volleyball Vacation because they are amazing trips, and the pros are just the icing on the cake.  We do not announce our pros until the week prior to each trip. 
Pricing/Waitlist/Cancellation policies:  Check our the REGISTER section (will be live 9/8/2023)
More information, or to confirm availability, you can always call us @ 303.745.2255